Furnishing your Portuguese Garden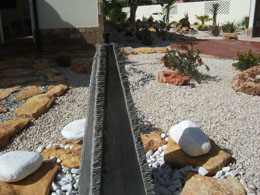 Ornaments, statues, figurines, bird baths and gazebos; all enhance the finished product of a garden, whether they are situated at a focal point, as a surprise at the end of a meandering path, or simply as a decorative edge to a water feature. They give an extra dimension, serenity and often a mystical enhancement that entices you to spend more time enjoying your garden.
We utilise raw materials on hand here in Portugal, and turn them into beautiful natural sculptures to grace any garden. Wood is plentiful in this part of the world and very sustainable – and we use eucalyptus, cork-oak and chestnut; pressure wash them, dry and treat them in a protective oil and the gnarled clumps of nature take on a complete architectural character of their own. Quite often we utilise parts of the wood that have decomposed, add soil and small aloes and agaves of even trailing geraniums. Hollowed out cork is an ideal candidate for this. With the cork oak being moisture retentive, you don't even have to water it so much.
Another form of stunning wooden architecture can be derived from driftwood or petrified wood. Years of battling winds or saturation from the salt water will carve an array of different shapes and forms into all types of wood. With just a simple bit of cleaning and protective varnish, they add a wonderfully esoteric dimension to your gravel beds and gardens.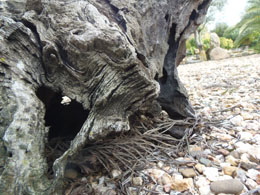 The other preferred favourite ornament material for the garden is stone, be it a natural stone wall or a huge, strategically placed slab. They provide year round interest when your perennials die back in the winter, whether you use them low and wide to emulate anchors, or tall and skinny as sentinels; they provide stunning accents within the garden architecture.
The staple favourite of natural garden ornaments here in Porrtugal is the terracotta pot. Very large urns can command prices up to a thousand euros, and although they do look undeniably stunning in a garden, chipped, broken, stained or smashed pots can be leaned or sunken into your gravel, soil or pine bark and give an immediate ornamental effect.