Small Gardens in Portugal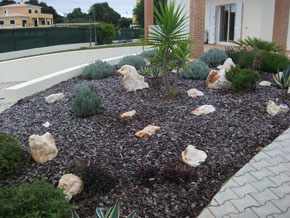 Even if your Portuguese garden is the size of a postage stamp, with a little inventiveness and imagination, we can transform a small terrace or neglected square of soil, into your own mini garden of sunshine.
A new deck with terracotta pots, a rock and gravelled dry garden, a section of artificial grass or even an edible themed garden with your own organic vegetables and herbs. All these themes are possible and often this transformation can take as little as two days work.
Give us a call and we will be happy to offer some simple and free design options and costings.