Gate and fencing options for your garden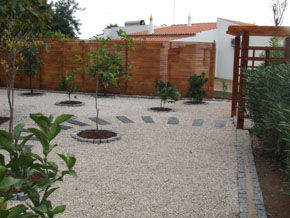 Fencing and enclosures are essential in determining your boundaries as well as maximizing security. But within a landscape design, they can also act as great wind barriers and sun-traps, enabling you to grow your favourite climbers or delicate shrubs.
Mortared or dry stone walls, bespoke wooden trellis designs or simple chain-link fencing can be constructed to suit your specific needs.
We have a large portfolio of design and concepts that will further enhance your Portuguese garden. Contact us for more information.